PRESS RELEASE–FOR IMMEDIATE RELEASE
W.E.B DU BOIS: A MAN FOR ALL TIMES                                                       Written and directed by Alexa Kelly (Using many of Du Bois own words)        Featuring Brian Richardson                                                                         Costumes–Terry Leong (Conan O'Brian Show)                                              Lighting–Joyce Liao, (Pan Asian Rep. Theatre for the New City, Abingdon Theatre, 59E59)                                                                                                              Sound–Louis Lopardi (Fresh Fruit Festival NYC, Boston Conservatory)              Sets–Ruben Arana Downs (Faculty-SUNY, FAMU)
WHERE: Performing in the NY International Fringe Festival:                                    Venue #12 Underground (64 E 4th Street, NYC 10003)
DATES in AUGUST: Opens Saturday 13th @ 9 pm,                                                    Tuesday 16th @ 7 pm, Friday 19th @ 3 pm, Monday 22nd @4.45 pm, Wednesday 24th @9.30 pm.
TICKETS: $18, Group sales available.
 An emotion packed theatre experience about the life and times of Civil Rights Activist –William Edward Berghardt Du Bois, (1868-1963). With this riveting drama we are transported into Du Bois' private and political world. An inspirational journey through almost one hundred years in this great man's life.  An experience both humorous, touching and enlightening.
William Edward Berghardt Du Bois, a black American born 3 years after Lincoln's Emancipation Proclamation, just after the Civil War, broke all boundaries: he was the first black student to  graduate from Harvard, the first black Sociologist, he studied in Europe, ran for senator, co-founded the NAACP, participated in the founding of the United Nations, fought tirelessly for Civil Rights for all people, and anti-lynching laws.  He lived to  see segregation declared unconstitutional. He died in Africa — on the eve of Dr. Martin Luther King's March on Washington.
Dr. Du Bois believed in women's rights, and the right for all people to have work, free education and medical coverage.  Indeed if it were not for McCarthy having accused Du Bois of being a Communist, in the McCarthy witch hunts, the name of Dr. Du Bois would be as famous in America as that of Dr. Martin Luther King, Jr., who said of his mentor  "History cannot ignore W.E.B. DU BOIS" .
Du Bois life was an epic saga of love and loss which gives a moving dimension to the story of this outsized, impressive public man.  
This show has performed at the Edinburgh Festival Fringe–21 shows. The Victoria and Albert Museum, London–20 shows. Toured Holland and performed for Queen Beatrix; The Du Bois Library, Amherst, U- Mass. Mahaiwe Theatre, Great Barrington MA, and at Colleges and Libraries across the country.
 The critically acclaimed actor, BRIAN RICHARDSON plays Dr. Du Bois and the many other characters in the show.
Brian Richardson's REVIEWS:
"A unique and amazing experience" –Time Out, London
 "All this, Richardson brings to life  in a way that is never any less than compelling, even as he offers many of us a welcome education" –David Pollock, The Scotsman
 "The performance is remarkable…very few (plays) this year left me so educationally and emotionallystimulated as the life story of this great American hero."– Jane Gross, Edinburgh Fringe Review
 "Alexa Kelly's well-written script is compelling…Richardson moves it to dazzling success"–David Roberts, Theatre Reviews Limited
 "Truly absorbing.  A bravura performance!" Informed Edinburgh
 "The most surprising and insightful evening I've had in the theatre this season." David Rothenberg, WBAI Radio
 "Alexa Kelly directed with a sure eye, a trust of the spoken word, and an understanding of the theatrical moment … a stellar performance by the gifted Brian Richardson." Artzine
http://pulseensembletheatre.org/w-e-b-du-bois
BRIAN RICHARDSON (W.E.B. Du Bois)  was born in Belize and raised in Trinidad and Tobago. He began acting in Trinidad in 1981. He is now based in New York.  In addition to W.E.B. Du Bois, he has appeared with the Harlem Summer Shakespeare as Macbeth, Prospero, The Tempest, Malvolio, Twelfth Night,  Jaques, As You Like It. Other NYC productions include Night Must Fall, The Lower Depths, and Race.  He has also performed with Bristol Riverside Theatre, Barter Theatre, The Metropolitan Playhouse, The Bushnell Theatre, J City Theatre, and others.  TV credits include: Law and Order and Baz Luhrmann's The Get Down.  Movie credits: Time out of Mind, Coming to America, Hunger and Sid's New Glasses. SAG-Aftra, AEA
ALEXA KELLY (Playwright/Director) was born and raised in London, and studied at Central. After visiting the US, she remained to teach acting in NC and then host a television series for PBS in Florida.  She ran a drama program at the men's FCI in Tallahassee. She then taught acting and directing for 3 years at U of M, Ann Arbor.  She moved to NYC, and in 1989 founded Pulse Ensemble Theatre with Gary Garrison (Artistic Director for the DGA), and Kevin Willmott  (screen writer for Spike Lee's Chiraq),  and has been its artistic director ever since.  She has directed regionally and taught and/or directed at U of M, UNC, FSU, Adelphi U, and Tisch School of the Arts. alexaKellydirector.com.  SDC, DGA, AEA, SAG-AFTRA, STA, League of Professional Theatre Women.
PULSE ENSEMBLE THEATRE established in 1989 is one of the oldest ensemble theatre companies in New York City. Pulse operated 2 performance spaces on Theatre Row, until their building was razed for the new Signature Theatre complex.  Pulse is committed to two major productions a year: one Harlem Summer Shakespeare a site-specific outreach project, and one new script from its weekly Playwrights' Lab.
For further information, contact:                                                                            Alexa Kelly                                                                                                         Pulse Ensemble Theatre                                                                                       248 W 35th Street, 15th Floor                                                                              New York, NY 10001                                                                                            212-695-1596                                                                                                              Please scroll down for more images  
All photos credit LINDA GROVE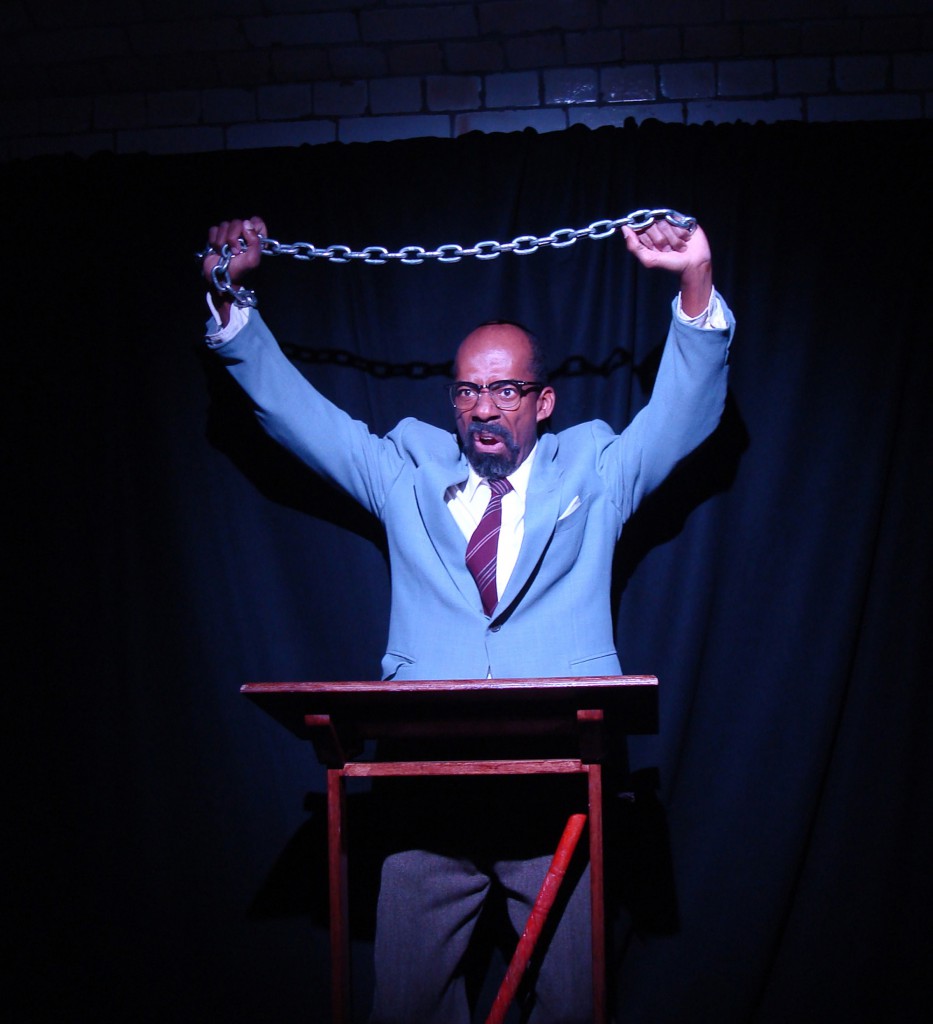 Brian Richardson as W.E.B. DU BOIS on trial for un-American activities in 1953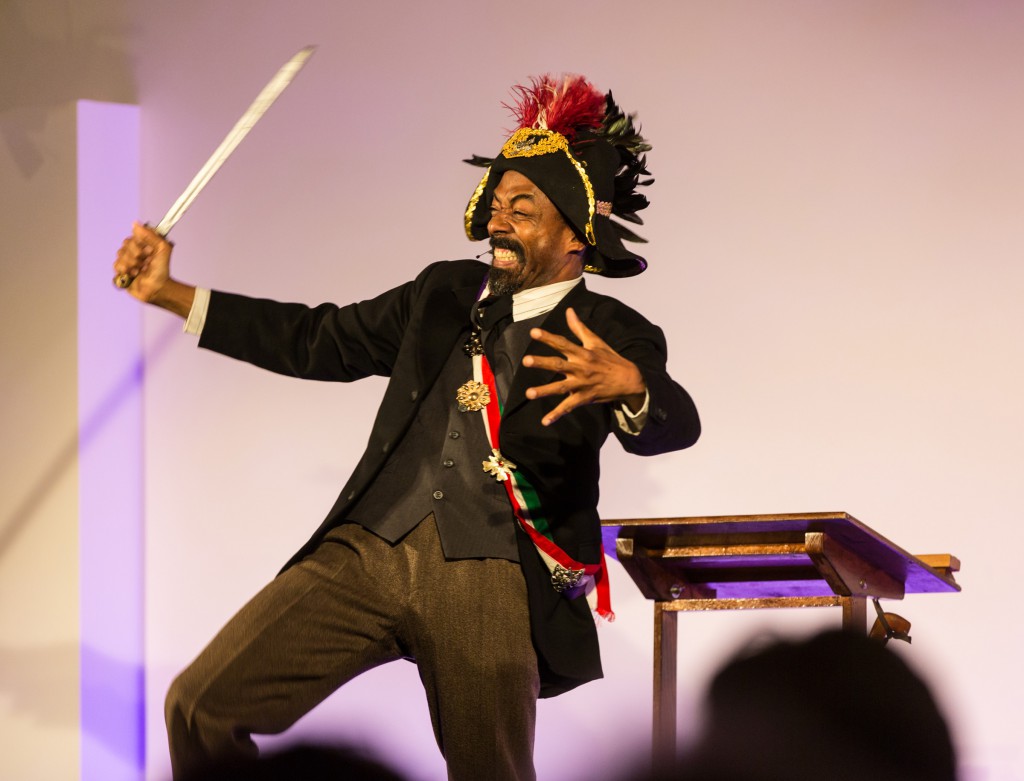 Brian Richardson as MARCUS GARVEY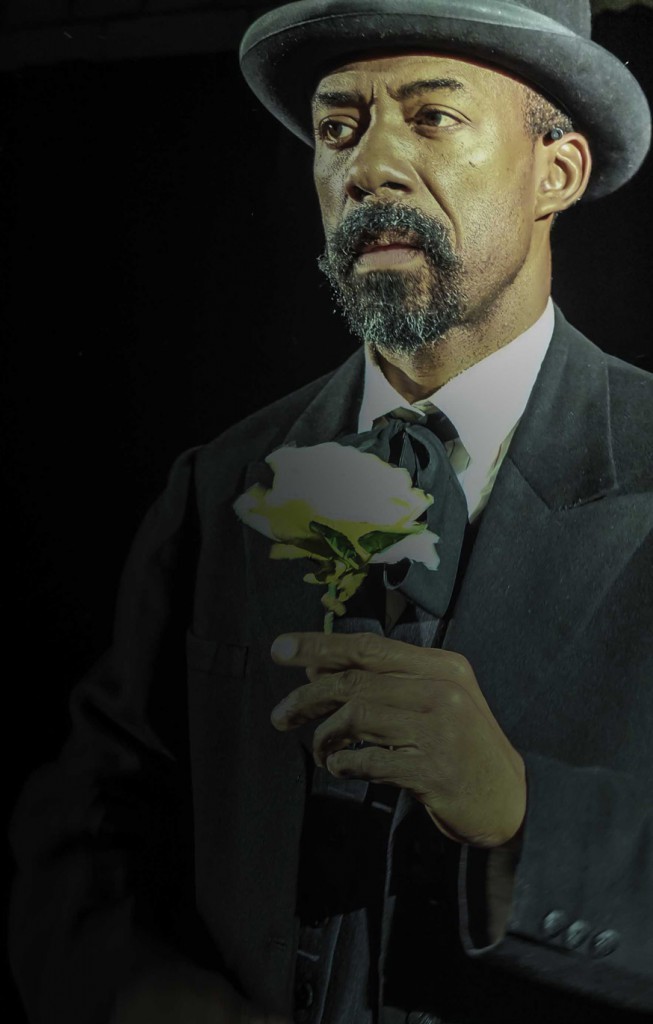 Brian Richardson as Dr. Du Bois at the funeral of his son
This show has performed at the Edinburgh Festival Fringe–21 shows

The Victoria and Albert Museum, London–20 shows

Toured Holland and performed for Queen Beatrix

Du Bois Library, Amherst, U- Mass.

Mahaiwe Theatre, Great Barrington MA

And at Colleges and Libraries across the country.