The HARLEM SUMMER SHAKESPEARE was made possible by the generous support of New York State Council on the Arts, New York City Department of Cultural Affairs and Materials for the Arts, Councilman Robert Jackson, Riverbank State Park, and our generous supporters. WE THANK YOU!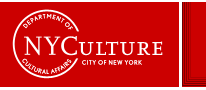 SUMMER 2014 : ROMEO & JULIET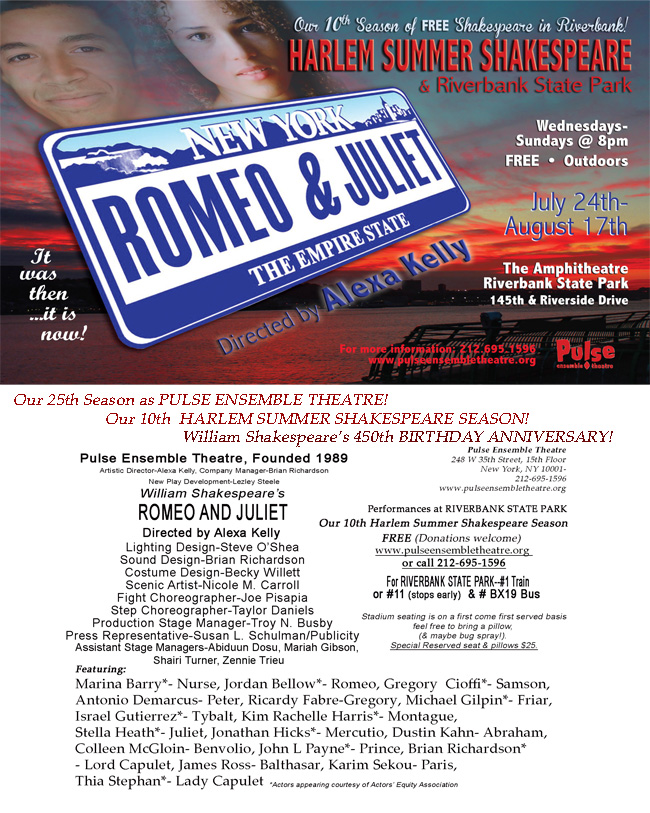 The masked lovers meet    (Photo: Lorraine Smyth)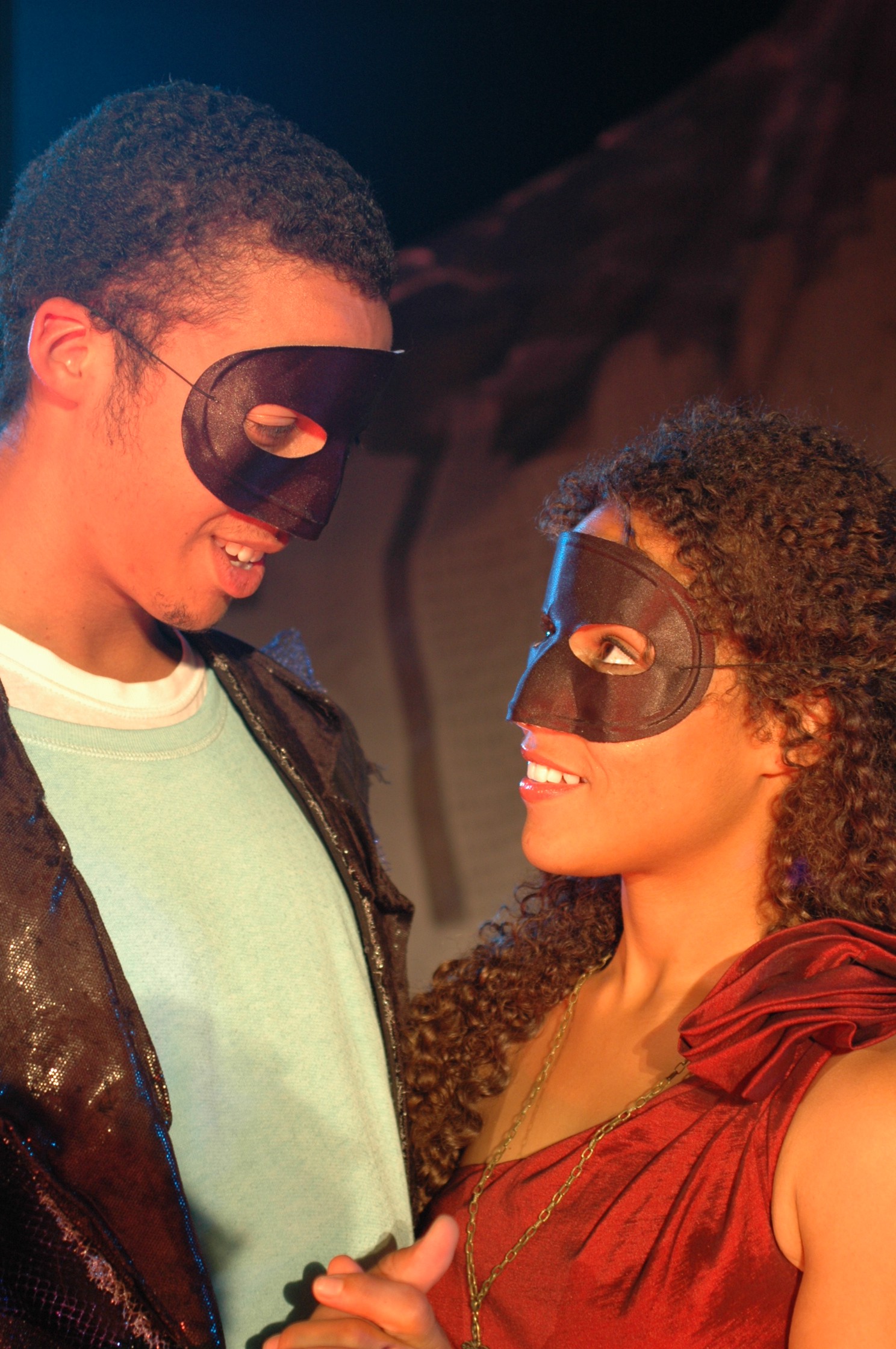 Mercutio taunts Tybalt  (Photo: Scott Wynn)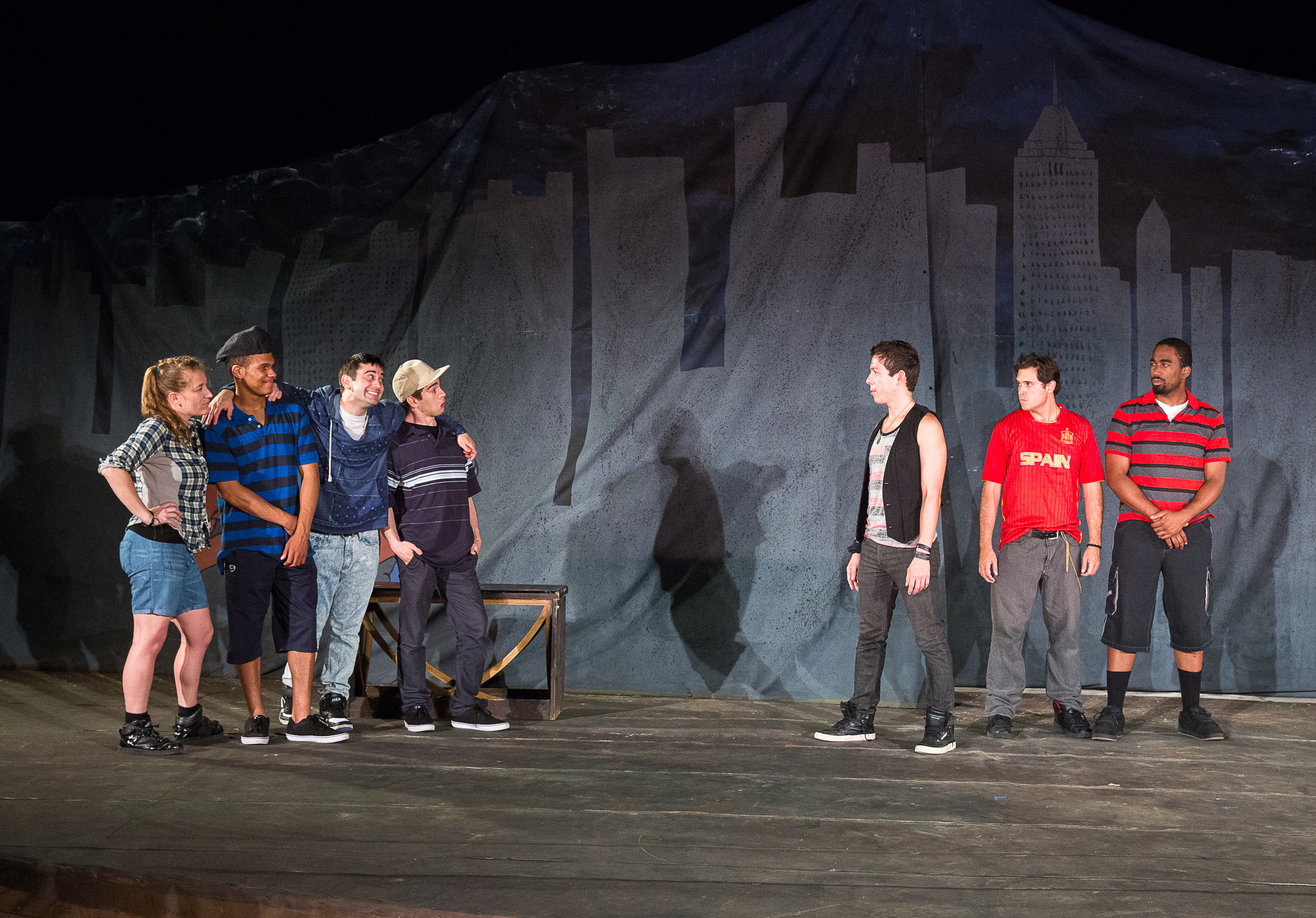 Police discover the bodies (Photo: Scott Wynn)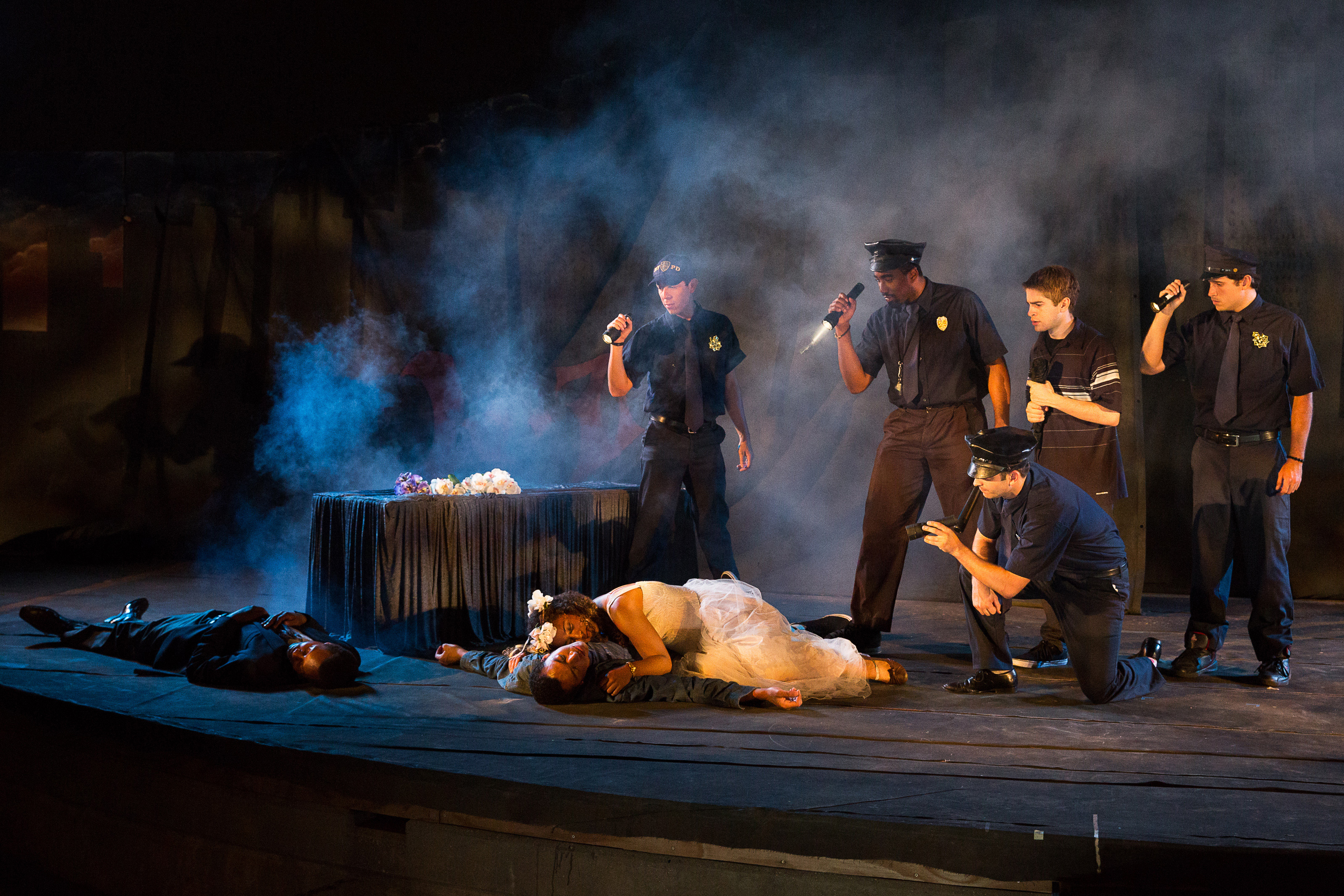 Paris in Juliet's tomb (Photo: Scott Wynn)
---
SUMMER 2013: THE TAMING OF THE SHREW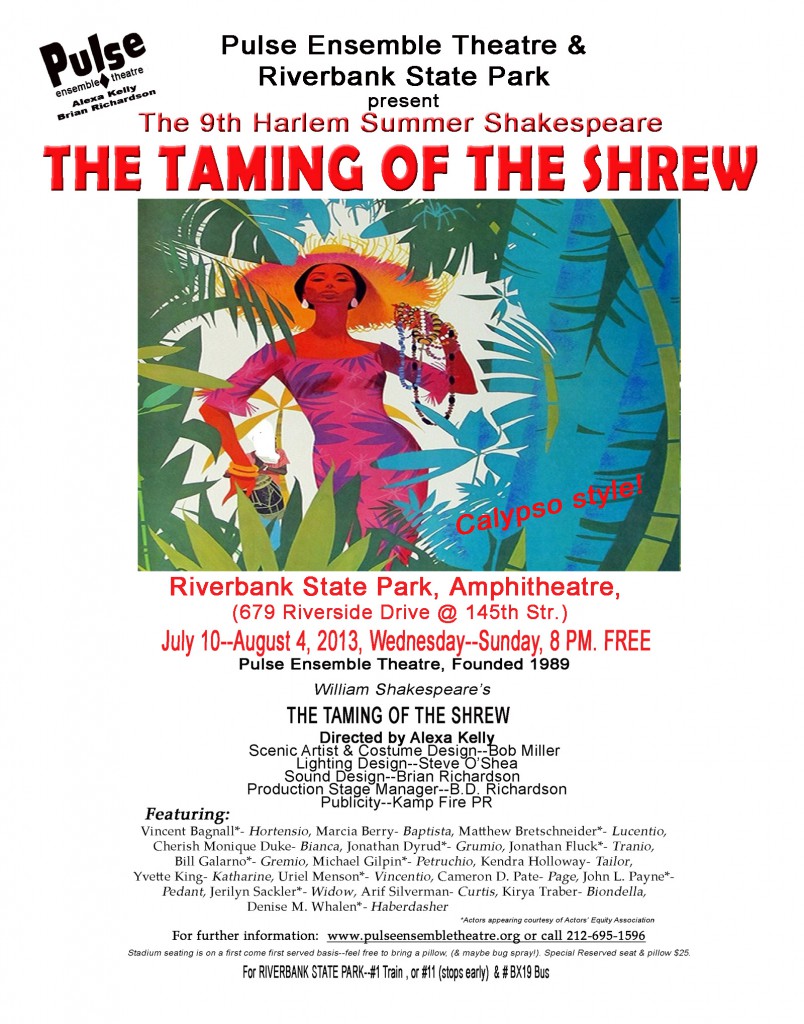 Theater Review (NYC): Harlem Summer Shakespeare's 'The Taming of the Shrew'  By Jon Sobel | Friday, July 19, 2013
Shakespeare, outdoors, by the banks of a great urban river? No need to go back to the turn-of-the-17th-century Thames for this treat. And, for New Yorkers seeking Shakespeare in a park, no need to wait on line all day in Central Park only to be disappointed there are no more tickets. Pulse Ensemble Theatre's Taming of the Shrew, directed by company founder Alexa Kelly, dances and clowns across the amphitheater stage at Riverbank State Park through August 4.
Though re-set in the Caribbean rather than Italy, what may be Shakespeare's most culturally outdated play (message: wives should defer to their husbands absolutely) remains one of his most fun, especially when performed with this production's high spirits and quick wit.
The Taming of the Shrew may well be the very first play Shakespeare's wrote (at least without any collaborators), … True to the spirit of this comical setup, Shrew proves a mighty lark replete with absurd connivings, silly disguises, and prominent clowning.
Baptista, a rich gentleman in the original but in this version a mother played with smooth, smiling gravitas by Marcia Berry, has two daughters. No one wants to woo Kate, the insufferably sharp-tongued elder (the excellent Yvette King), but Baptista is keeping her sweet younger daughter Bianca off-limits to her multiple suitors until a mate is found for Kate. Enter Petruchio, who, to everyone's delight except Kate's, will dare to court her.
Michael Gilpin gives that brave soul some oddball phrasing but a cockeyed, comic swagger that feeds the clownish energy of the whole production. In full clowning mode is the hilarious (and acrobatic) Jonathan Dyrud, who, while playing a mere Attendant, gives a performance that becomes the apex of the whole celebratory structure Kelly has built around the text. It's an exciting, full-throttle staging…. Kelly and her creative team make the very most of the comic situations. I didn't remember that there even were so many comic situations in this play. I'm happy to consider myself re-enlightened. … the production held the attention of the kids in the audience the night I attended, at least for most of its modest two-hour length, and that's an accomplishment with a generation growing up accustomed to flitting from one quick Internet video to another. Though full of dancing and hijinks, it isn't so much tailored for a young audience as committed to the antic spirit that infused Elizabethan comedies when they played by the Thames all those years ago.
This summer, by the Hudson, you can experience something of that spirit without having to wait in any lines. And it's free. Visit the Pulse Theatre Ensemble's website for more info. To get there, just take the #1 train to 145th St. and walk west (down the hill) straight into Riverbank State Park.
Recommendation: bring a small cushion to sit on (amphitheater seating is hard on the bum) and bug spray.

Tranio (as Lucentio), Baptista and Gremio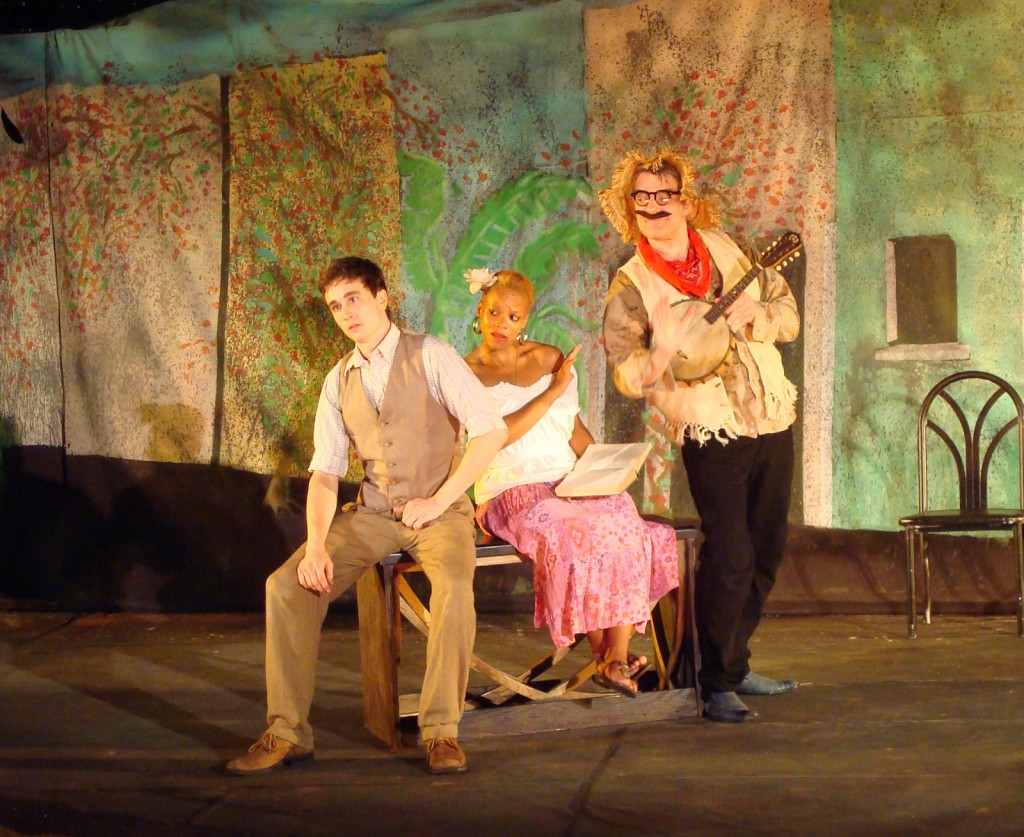 Cambio, Bianca and Liscio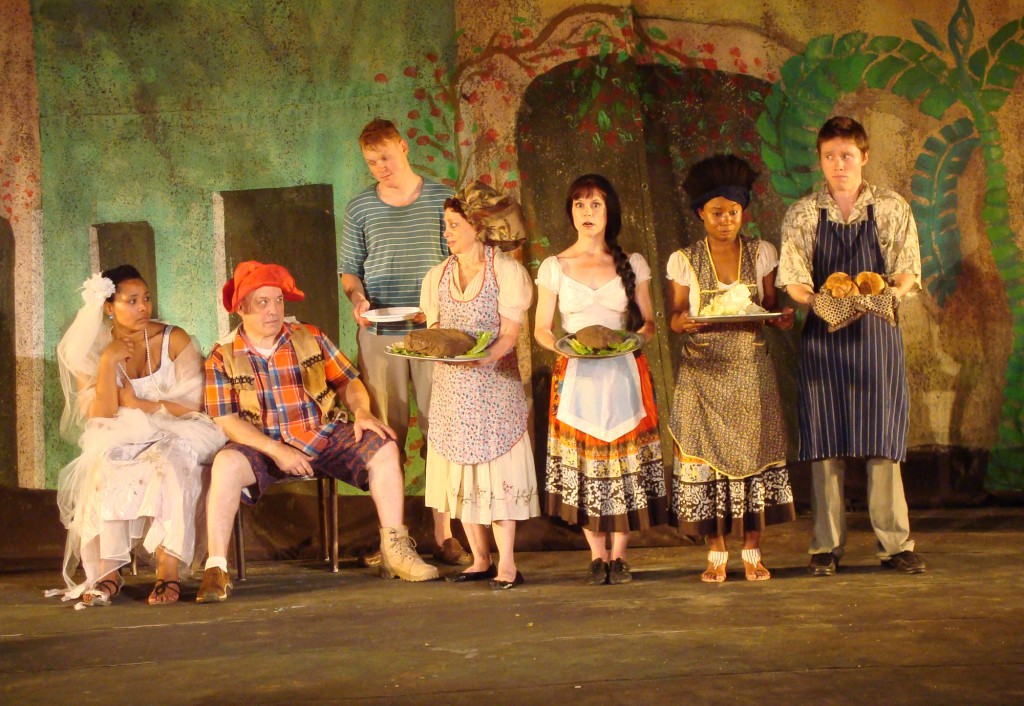 Petruchio brings his bride home
---
SUMMER 2012: 
A MIDSUMMER NIGHT'S DREAM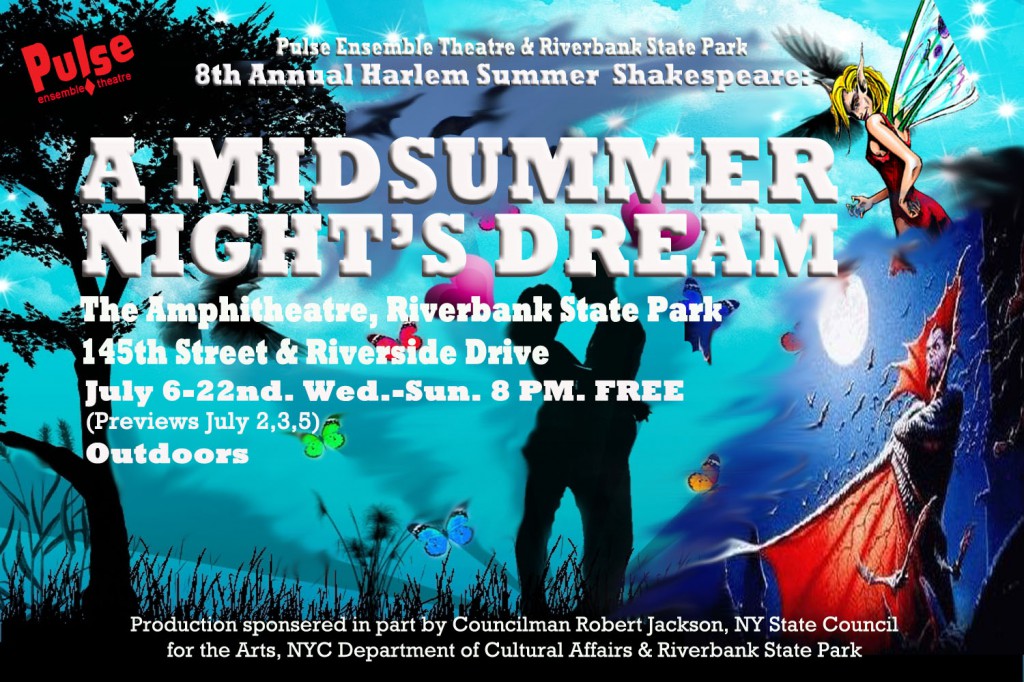 Directed by Alexa Kelly
Lighting design – Steve O'Shea
Costume design – Bob Miller
Sound design – Brian Richardson
The Harlem Summer Shakespeare brings Shakespeare into today's world. Using the news topics of  today our A MIDSUMMER NIGHT'S DREAM presents Oberon and Titania as a couple of feuding male creatures, and Thesius and Oberon are two corporate and powerful women; Thesius has forcefully taken over Hippoyta's corporation, but Hippoyta has grown to love Thesius, and they are preparing for a wedding.  Puck has worked with Oberon since she was a young girl, and is still his executive assistant and most trusted messenger.  The mechanicals want "Jobs not Cuts" and so, using Shakespeare's language unchanged,  the fun begins!
Featuring: Kelsey Arendt as Thesius, Jacklyn Collier* as Helena, Mariah Franklin as Peaseblossom, Nikki Ferry* as Hippolyta, Kerianne Ferguson as Honeysuckle, Sharone Halevy* as Hermia, Geoffrey Hillback* as Demetrius, Greg Nussen asFlute, Elliott  Mayer* as Egeus/Quince, Nneoma Nkuku* as Snug/Philostrate, John Payne* as Snout, Brian Richardson* as Bottom, Karim Sekou as Titania, Blaine Smith* as Lysander, Thia Stephan* as Puck, and Steven J. West asOberon
">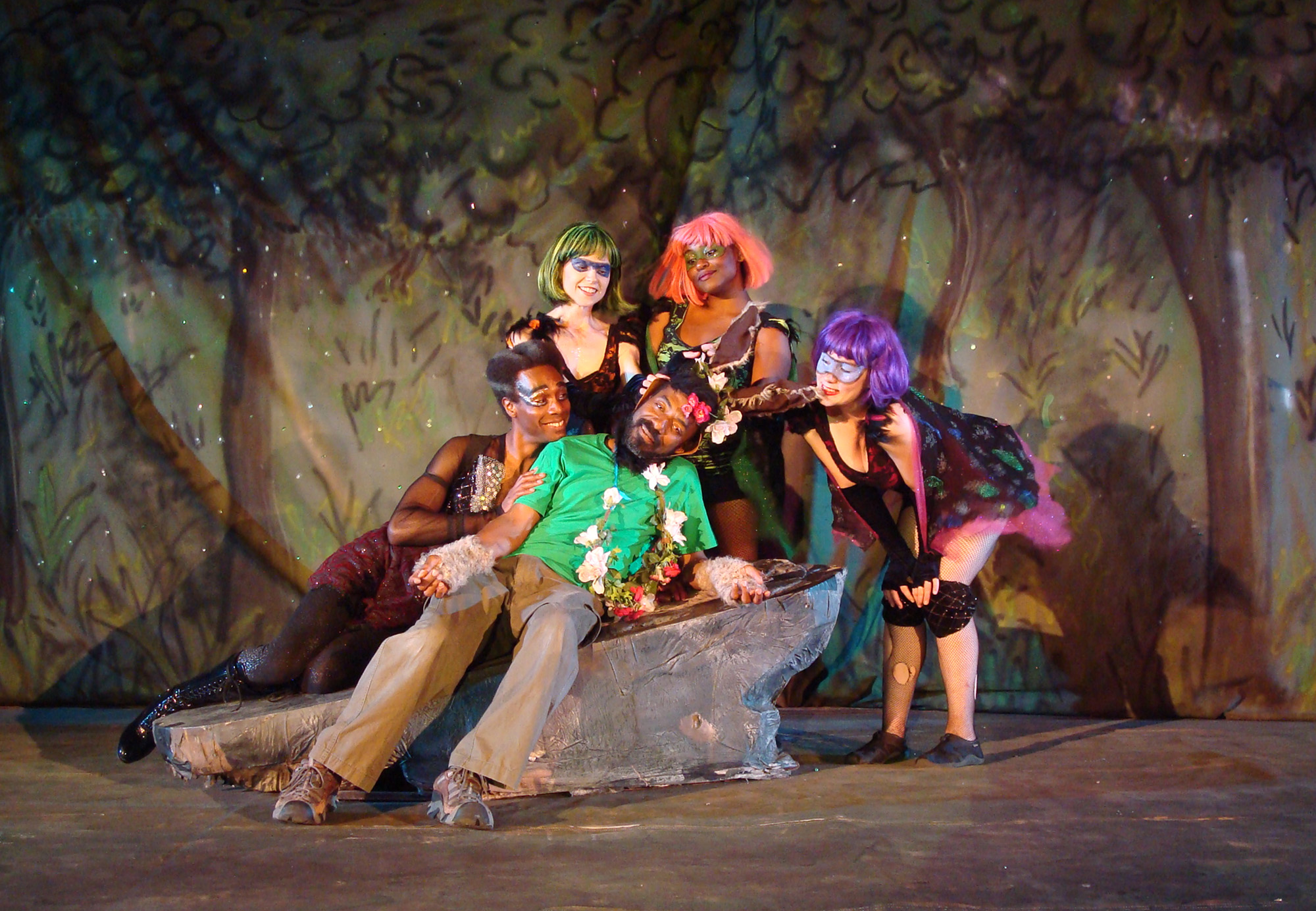 Titania is in love with Bottom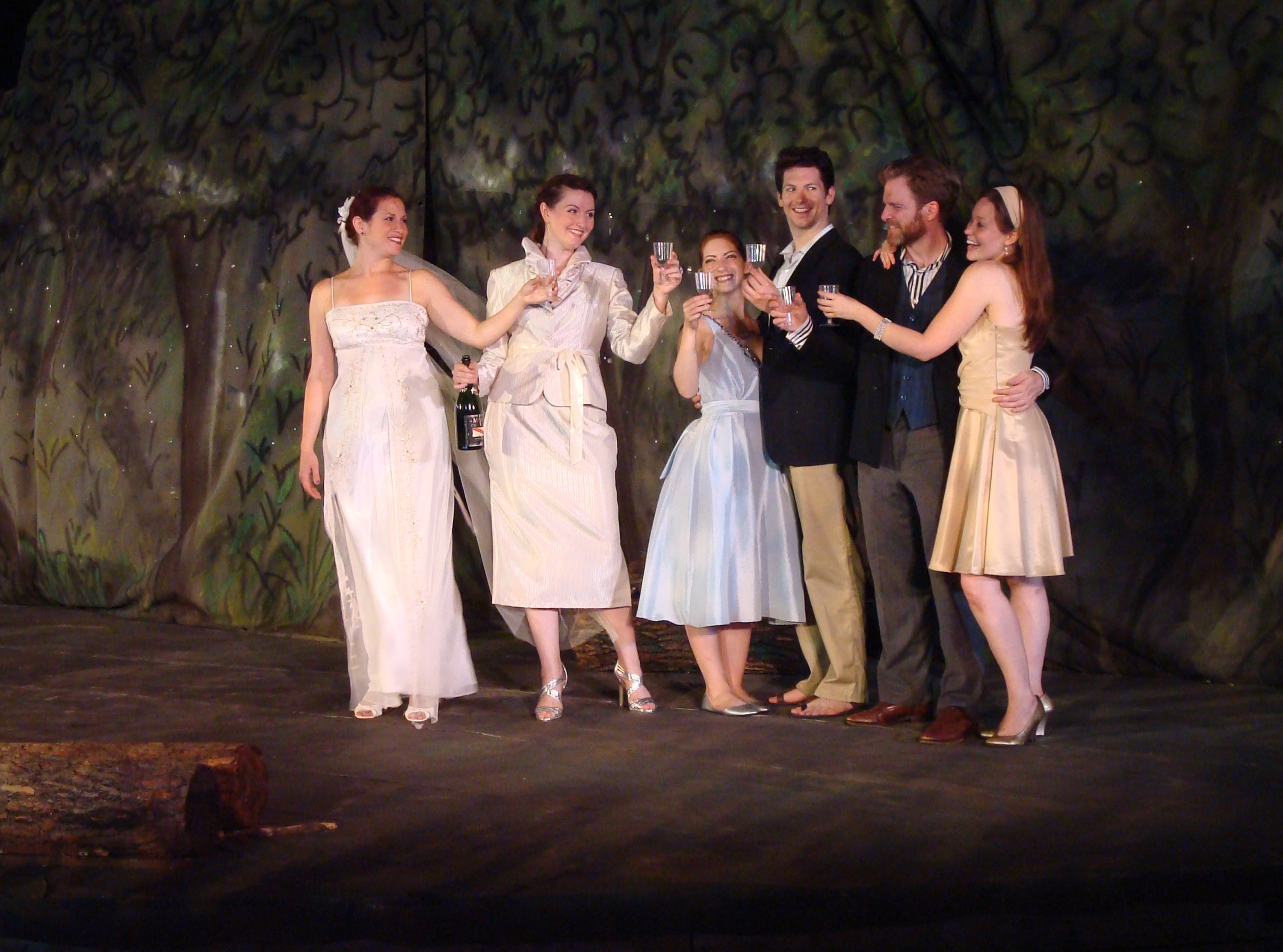 Titania with his fairies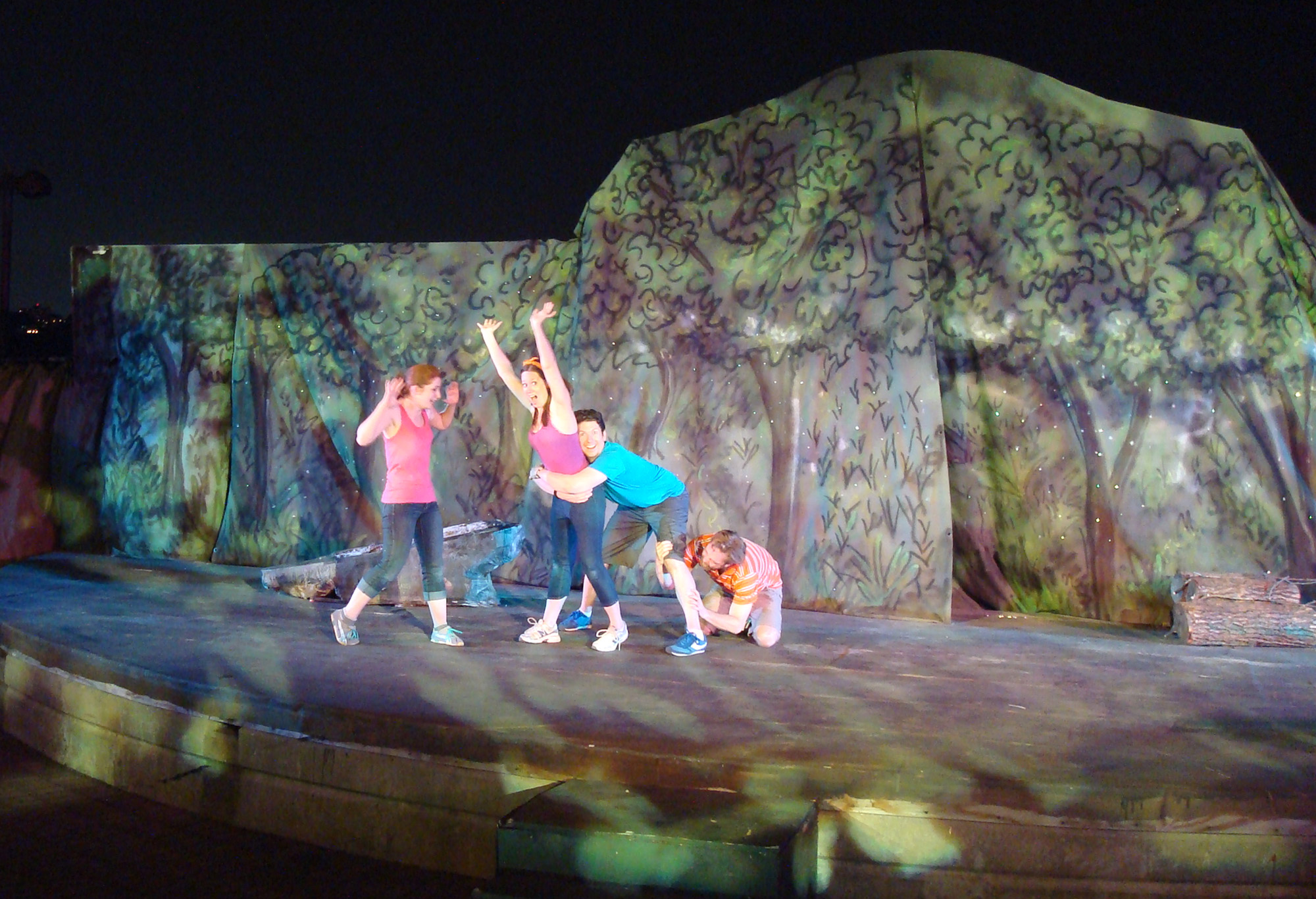 The lovers fighting
"This show is a lot of fun"–Backstage.com

---
SUMMER 2011: 
AS YOU LIKE IT
Directed by Alexa Kelly
In this contemporary version of the classic romantic comedy, AS YOU LIKE IT, we find Frederick, the usurper living the life of a millionaire along the lines of Hugh Heffner (with underworld contacts). He lives in a world where money is the rule of the day. Duke Sr., and his followers, live a rustic life somewhere between the hippies of the 60's and the Hari Krishner people.
As is the tradition with our HARLEM SUMMER SHAKESPEARE, this production keeps Shakespeare's language intact, whilst we contemporize the world in which the characters live.
DIRECTED by ALEXA KELLY
LIGHTING DESIGN by STEVE O'SHEA
COSTUME DESIGN by BOB MILLER
SOUND DESIGN by BRIAN RICHARDSON
CAST OF CHARACTERS:
DUKE SENIOR, living in banishment – Elliott Mayer*
DUKE FREDERICK, his brother – Elliott Mayer*
AMIENS, lord attending on the banished Duke – Jacob Heimer*
JAQUES, lord attending on the banished Duke – Brian Richardson*
LORD 1, lord attending on the banished Duke – Robert Dyckman*
LE BEAU, courtier attending upon Frederick – Jacob Heimer*
LORD 1, courtier attending upon Frederick – Robert Dyckman*
DUKE'S ATTENDANT – Sashan Yanique Finnikin
CHARLES, wrestler to Frederick – Shawn Williams*
WRESTLING MC – Max Rosmarin
OLIVER, son of Sir Rowland de Boys – Vincent Bagnall*
DENNIS, servant to Oliver – Max Rosmarin
ORLANDO, son of Sir Rowland de Boys – Josh Odsess-Rubin*
JACK, son of Sir Rowland de Boys – Johnny Viel
ADAM, servant to Oliver – Bill Galarno*
TOUCHSTONE, a clown – Joe Raik*
SIR OLIVER MARTEXT, a vicar – Vincent Bagnall*
CORIN, – Stuart Rudin*
SYLVIUS, – Michael Gilpin
WILLIAM, a street fellow, in love with Audrey – Robert Dyckman*
ROSALIND, daughter to the banished Duke – Stella Kammel
CELIA, daughter to Frederick – Iris McQuillan-Grace
PHOEBE, – Cherish Monique Duke
AUDREY, a country wench – Emily McGowan*
*Members Of Actors' Equity Association*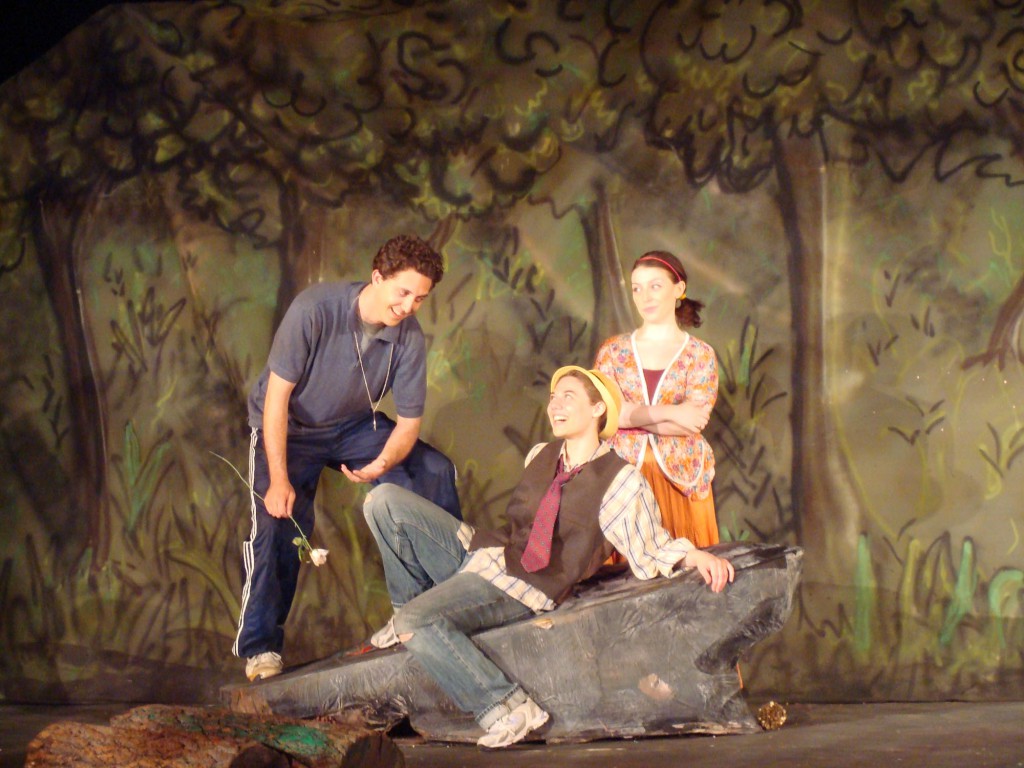 Orlando, Ganymede (Rosalind), and Aliena (Celia)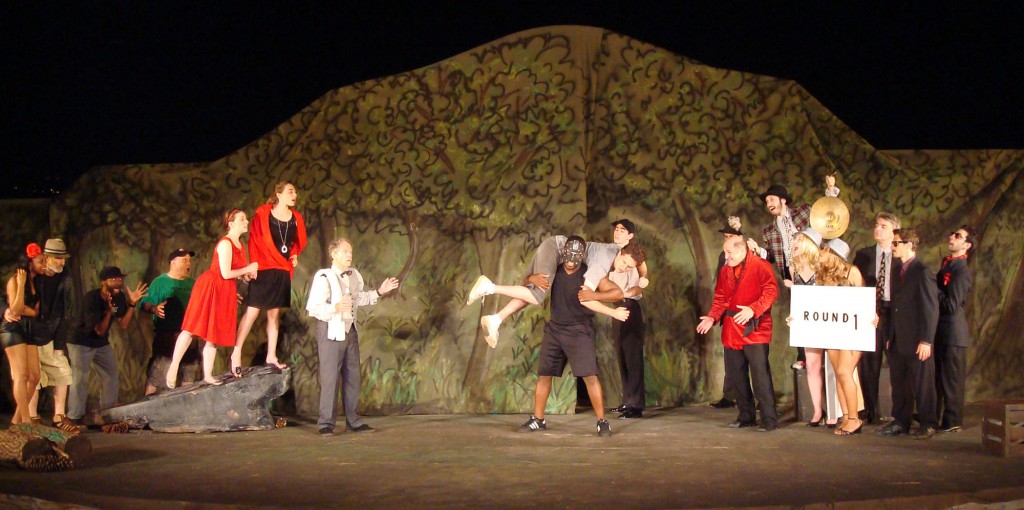 Full company at the wrestling match
The HARLEM SUMMER SHAKESPEARE is made possible by the generous support of
NYSCA, NYC Councilman Robert Jackson, DCA and Materials for the Arts,
Riverbank State Park, and our generous supporters.
We thank you!
SUMMER 2010: MACBETH
Directed by Alexa Kelly
Lighting Designer–Steve O'Shea
Costume Designer–Kimberly Glennon
Sound Designer–Brian Richardson & Louis Lopardi
Fight Choreographer–Carrie Brewer
Press Representative–Jonathan Slaff & Associates
---
SUMMER 2009: 
A MIDSUMMER NIGHT'S DREAM
Directed by Alexa Kelly
COUNTEE CULLEN LIBRARY
ST. NICHOLAS PARK, (lawn seating)
MORNINGSIDE PARK, (lawn seating)
RIVERBANK STATE PARK
GOVERNORS ISLAND,(lawn seating)
"ENTRANCING" Wall Street Journal
"A PLEASURE" NY TIMES
"A JOLLY EVENING AT THE THEATER"! BACKSTAGE
---
SUMMER 2008: 
TWELTH NIGHT
Directed by Alexa Kelly
---
SUMMER 2007: 
THE TEMPEST
Directed by Alexa Kelly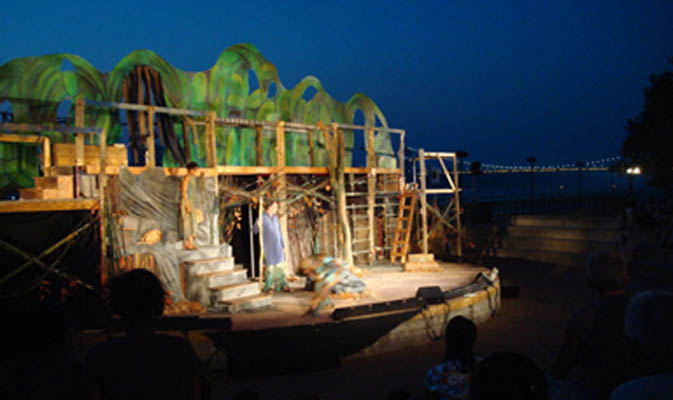 THE TEMPEST SET
(With view of the George Washington Bridge)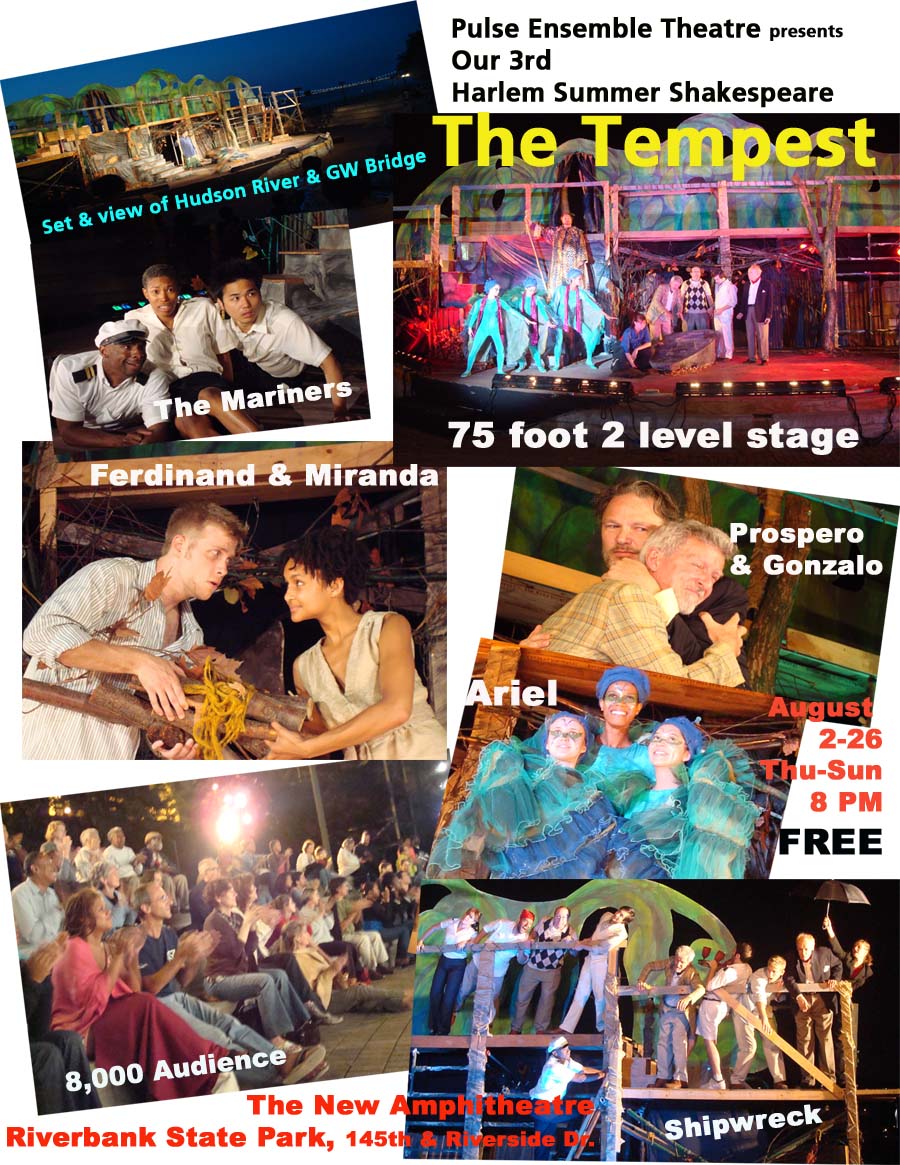 DIRECTED by Alexa Kelly
SET DESIGN by William Andrew Kelly
LIGHTING DESIGN by Steve O'Shea
COSTUME DESIGN by Courtney McClain
SOUND DESIGN by Brian Richardson
Production Stage Manager Jennifer G. Birge
Press Representative Susan L. Schulman
"A Brilliant production!"–AMSTERDAM NEWS
Review FROM THEATERONLINE.COM

By Fred McKinnon
One option for seeing Shakespeare in a New York City park on a (hopefully) balmy summer night is to wait on line at the Delacorte Theater for about six hours or make a $150 tax-deductible contribution for a reserved seat. Another choice is to hop on a train to 145th Street and take a short walk (or jump on a bus) to Riverbank State Park's newly renovated Amphitheater (on the bank of the Hudson River) for Pulse Ensemble's imaginative and delightfully entertaining production of "The Tempest." Arrive a little early and a beautiful sunset might put you in the perfect frame of mind for the Bard's play about magic, sprites, justice and young love.

As is usually the case with artistic director/director Alexa Kelly's multi-ethnic Harlem Summer Shakespearean productions, there are elements of contemporary "hip." Last year's "Romeo and Juliet" utilized some "Law and Order" ingredients, and this season's presentation reflects a "Lost" motif with ever-enlivening light and sound designs (Steve O'Shea and Brian Richardson, respectively) and dance numbers, which often seemed to keep even the youngest members of an only-in New York audience on the edge of their seats. William Andrew Kelly's set of Prospero's Magical Island with its platforms, stairways and cave dwellings serves the action of the play well—from floundering ship to dancing sprites to plotting malcontents—and as adds mystical aspects to the ephemeral theatrical proceedings. The inventive costumes (Courtney McClain) of the island inhabitants and conjured apparitions also add to the festivities.

A dedicated cast of eighteen seasoned actors and young thespians deliver a consistently fine presentation of the language, poetry and plot of the play. Twelve years before the opening titular magically induced tempest, Prospero (an overly-contemplative but solid George Tynan Crowley) had been set adrift in a rotten carcass of a boat with his infant daughter Miranda (a delightful, heart-winning Lauren Davis) by his brother Antonio ( "Soprano"-like Kevin Hauver) in order to usurp his position as Duke of Milan. Fortunately, kind old counselor Gonzalo (a likeable but underplayed Richard Vernon) provided the ill-fated nobleman with essential supplies and the duke's volume of magic lore.

One of the highlights in the proceedings in Prospero's plan to set things right is a delightful scene of love-at-first-sight as Miranda encounters The King of Naples son Ferdinand (Brian Cade), whose chemistry together is refreshingly romantic. Buffoonish and comic encounters with jester Trinculo (Udi Razzin), drunken butler Stephano (Joseph Raik) and the once-savage island inhabitant Caliban (evil-intentioned and high-spirited Bashir Solebo) create clownish diversions. The character who won my heart the most is Prospero's spiritedly aide de camp Ariel, uniquely portrayed with sisterly harmony by Raushanah Simmons, Hannah Sloat, and Linda Lee McBride. Beautifully costumed, they frequently danced, sang and enchanted, so much so that her (their) final exit as a "free spirit" was saddening but also joyful.

At the conclusion of the play, Prospero says, "Now my charms are all o'erthrown" as he relinquishes his magical powers; nevertheless, it seems unlikely that the charms of this midsummer eve theatrical experience for audience members will end with the enchanting curtain call.
Nycityonstage.org Review by VanLoan

The Tempest@Riverbank State Park Amphitheater 08/26/07

The Pulse Ensemble Theater's production of The Tempest celebrates its third free season of Shakespeare in Harlem. The show which is being performed in Riverbank State Park (overlooking the Hudson River at 138th St.) is an entertaining…endeavor vastly aided by Alexa Kelly's animated staging. With Jersey City's highrises twinkling across the river, one feels a certain affinity with those inhabitants of Shakespeare's magical island.

… …As Ariel, Raushanah Simmons (gives an) elegant performance, it's Ms. Kelly's imaginative direction that keeps things on an even keel. Streamlining the play to accommodate her updating, she keeps the pace quick and pointed. It opens with a sharp, silent pantomime of Prospero's banishment with Kevin Hauver as a creepy Karl Rove-esque Antonio particularly effective. Later, the shipwreck scene is created with little more than body English and blue crepe to very dramatic results. Adding immensely to Kelly's airy conception is Brian Richardson's lush soundscape incorporating several African motifs.

Thankfully, the leading actors compensate for some of the more amateur performances. Basher Solebo is all rage and despair as the downtrodden Caliban; the fact that the actor is black adds another layer to the moving portrayal (he also has the best costume of the evening; a glittering aqua body suit via designer Courtney McClain). Lauren Davis as Miranda and Brian Cade as Ferdinand are a bit bland as the young lovers yet are both able to make it work in their favor. The evening belongs to George Tynan Crowley as Prospero. He is both natural and majestic as the fallen monarch; in his penultimate moment (when he burns his book of magic symbolizing his decline into old age) he is poignant and affecting. The Pulse's Tempest is a wonderfully breezy introduction for young audiences to Shakespeare.
---
SUMMER 2006: 
ROMEO AND JULIET
Directed by ALEXA KELLY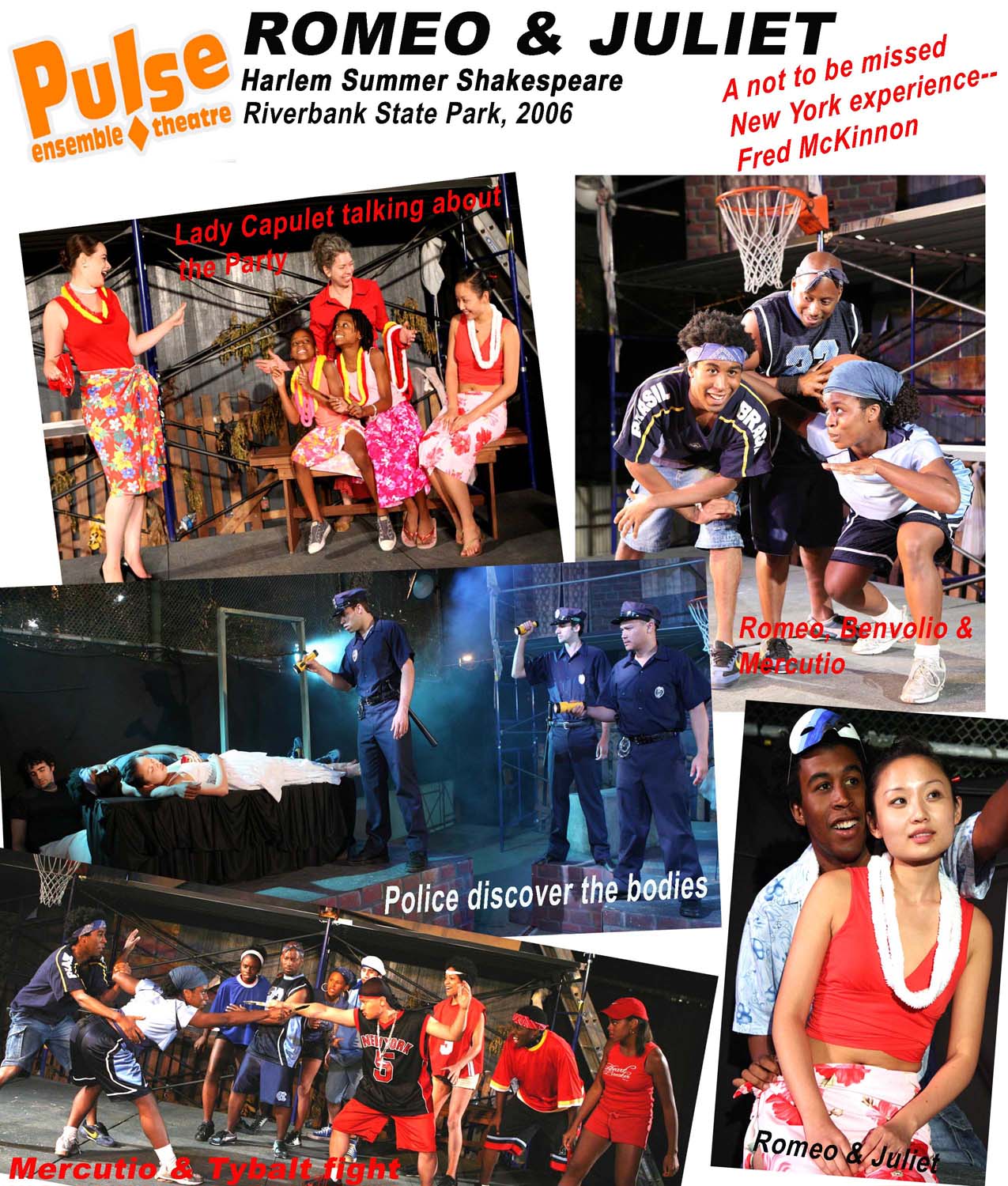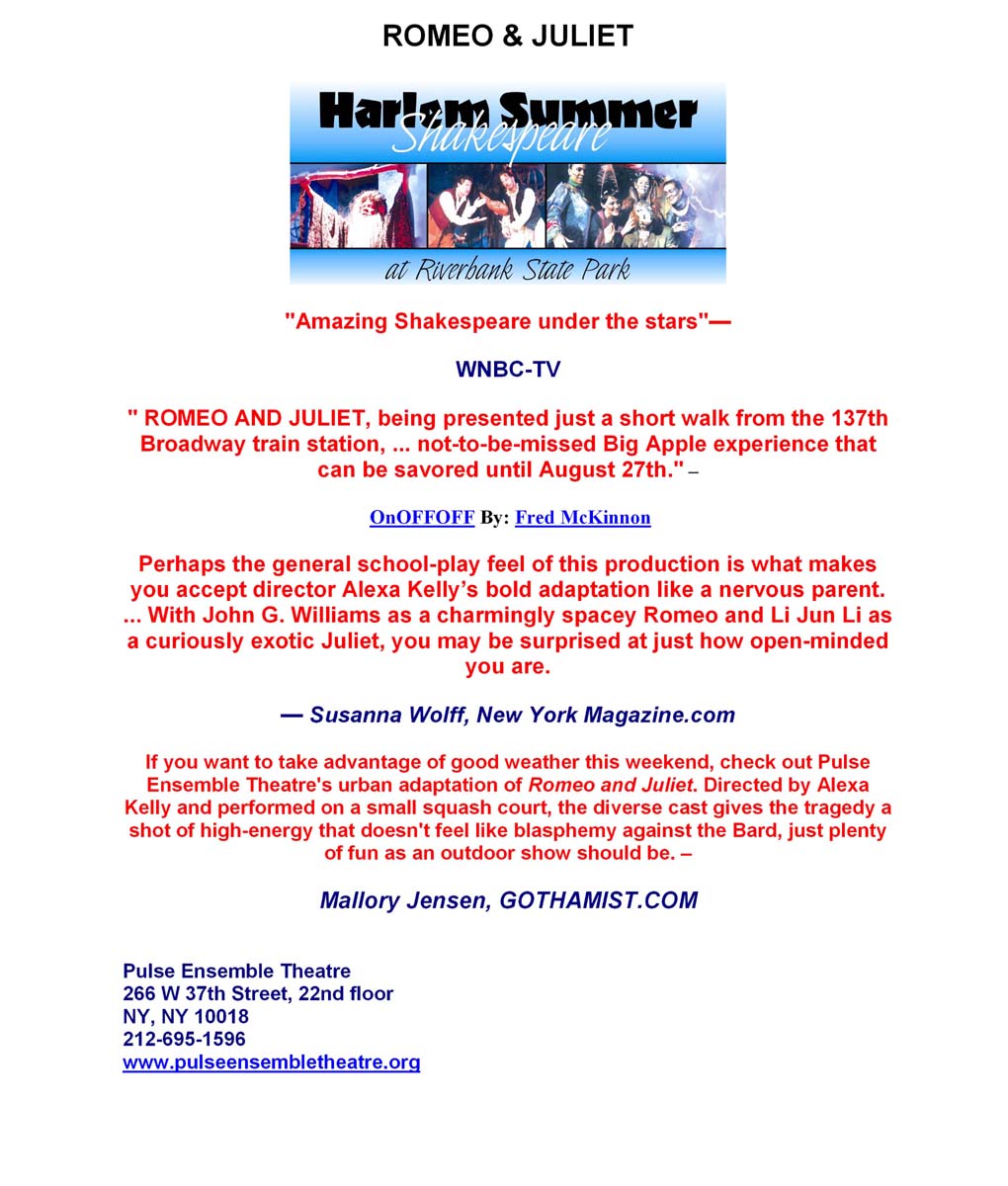 "Alexa Kelly's boldly conceived adaptation of the famous tragedy puts the servants in basketball jerseys and substitutes dance-offs for duels. …With John G. Williams as a charmingly spacey Romeo and Li Jun Li as a curiously exotic Juliet"
Thu-Sun, 8pm (through Aug 27)
Reviewed for OnOFFOFF By: Fred McKinnon
"From the on start, this production of the classic tragedy seeks to reflect an urban atmosphere. …The words, faithfully and meaningfully delivered by the entire ensemble, are Shakespeare's; nevertheless, a good deal of the accompanying body language, choreography and fight sequences belongs to the 21st century inner-city…."Romeo and Juliet," being presented just a short walk from the 137th Broadway train station, is an almost not-to-be-missed Big Apple experience that can be savored until August 27th."
---
SUMMER 2005: 
A MIDSUMMER NIGHT'S DREAM
Directed by Alexa Kelly
This production is sponsored in part by: The NATIONAL ENDOWMENT FOR THE ARTS, RIVERBANK STATE PARK, the CARNEGIE COROPORATION OF NEW YORK, CON EDISON, and helped by THE LINCOLN CENTRE.
THE WALL STREET JOURNAL Give 'em The Old Razzle Dazzle
by Terry Teachout FREE OUTDOOR SHOWS are too often worth the price of the ticket, but in New York, where talented actors all but cluster on streetcorners looking for work, they can be unexpectedly entrancing. I took the bus up to Riverbank State Park the other night to watch Pulse Ensemble Theatre, augmented by eight neighborhood artists, perform "A Midsummer Night's Dream" in one of the Harlem park's many playgrounds, and the results couldn't have been more engaging.Alexa Kelly, the director, has given us an urban-style modern-dress staging in which Oberon (Steve Lloyd), Titania (Shirine Babb) and the denizens of their fairy kingdom hail from the Caribbean and frolic to steel-band music. The North Playground of Riverbank Park doubles as a circular amphitheater with three tiers of concrete benches, and Ruben Arana Downs, the designer, has cunningly placed the unit set on top of the playground equipment (shrewd use is made of the sliding board). The acting is variable, but everyone is good enough and a few performers are first-rate, especially Nicole Bowman, who is splendidly lithe and vibrant as Hermia. She's also very short, which is just what Shakespeare wanted ("Get you gone, you dwarf;/You minimus, of hind'ring knot-grass made;/You bead, you acorn").The audience at the performance I saw contained quite a few children, most of whom were evidently paying close attention. I'm sure it helped that the costumes are colorful and that Ms. Kelly has skillfully cut the play to an hour and 45 minutes with no intermission. Stir in the cool breezes that roll off the Hudson River and you've got a sure-fire recipe for a merry summer night.
THE NEW YORK TIMES
By Jonathan KalbThe Pulse Ensemble Theater's production of "A Midsummer Night's Dream" is a pleasure……Performed outdoors in the amphitheater at Riverbank State Park as part of the ensemble's Harlem Outreach Project, the show mixes professional actors with eight adorable kids (the youngest age 9) and transforms an impersonal urban playground into a charming user-friendly cultural arena. You'd have to be a serious curmudgeon not to enjoy this hour and three-quarters, with child-fairies dancing around in gauze wings, fictional lovers gamboling about slides, ladders and poles, and the real moon rising beside a billion dollar Hudson River view as the mechanicals' Moon introduces himself with an anemic flashlight….Looking around at the Riverbank audience, which stayed to the end, clapped heartily and didn't resemble any audience I'd seen at the Delacorte or any other mainstream Shakespeare showings.
BROADWAYWORLD.COM
A Midsummer Nights' Dream: The Bard Goes to the Playground
September 26, 2005 – by Margaret Cross Every year in New York City, seemingly thousands of productions featuring "inventive" interpretations of Shakespeare's works pop up. Some are frankly painful in their attempts to shoehorn the Bard into various settings and eras, while others manage illuminate the familiar characters and stories in ingenious ways. The Pulse Ensemble production of "A Midsummer Nights' Dream", which took place in the summer air, on a Harlem riverside playground, was one of those magical perfect fits of setting and story.

But what is a stage without players? And playful players they are. The battling fairy royals, Oberon (played commandingly by Steve Lloyd) and Titania (the powerful and lovely Shirine Babb) are played as Caribbean deities, with Titanas' retainers played by local dancers ranging in age from 9 to adult. Rounding out the supernatural characters is the energetic BrIan Richardson as a malevolent blue devil of a Puck. The Mechanicals are a joy to watch, led by Michael Gilpin, who plays Nick Bottom as an endearing combination of the Cowardly Lion and a mechanic from Brooklyn, and gets a few chances to sing the goofy blues. Andre Stafford as Peter Quince is quite charming and charismatic. The bickering quartet mortal lovers are all solid actors as well, with Cornelius Bates and Nicole Bowman standing out as Lysander and Hermia.

This "Midsummer" was originally intended as part of a full summer workshop for children and teens, but this year funding proved inadequate. This is true shame. Lets' hope next year will see the Pulse Ensemble able to reach out to the community with creative productions like this one, and workshops as well.