SUMMER 2007: 
THE TEMPEST
Directed by Alexa Kelly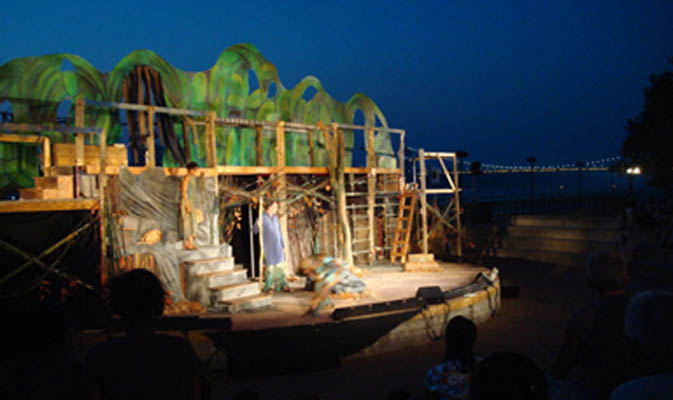 THE TEMPEST SET
(With view of the George Washington Bridge)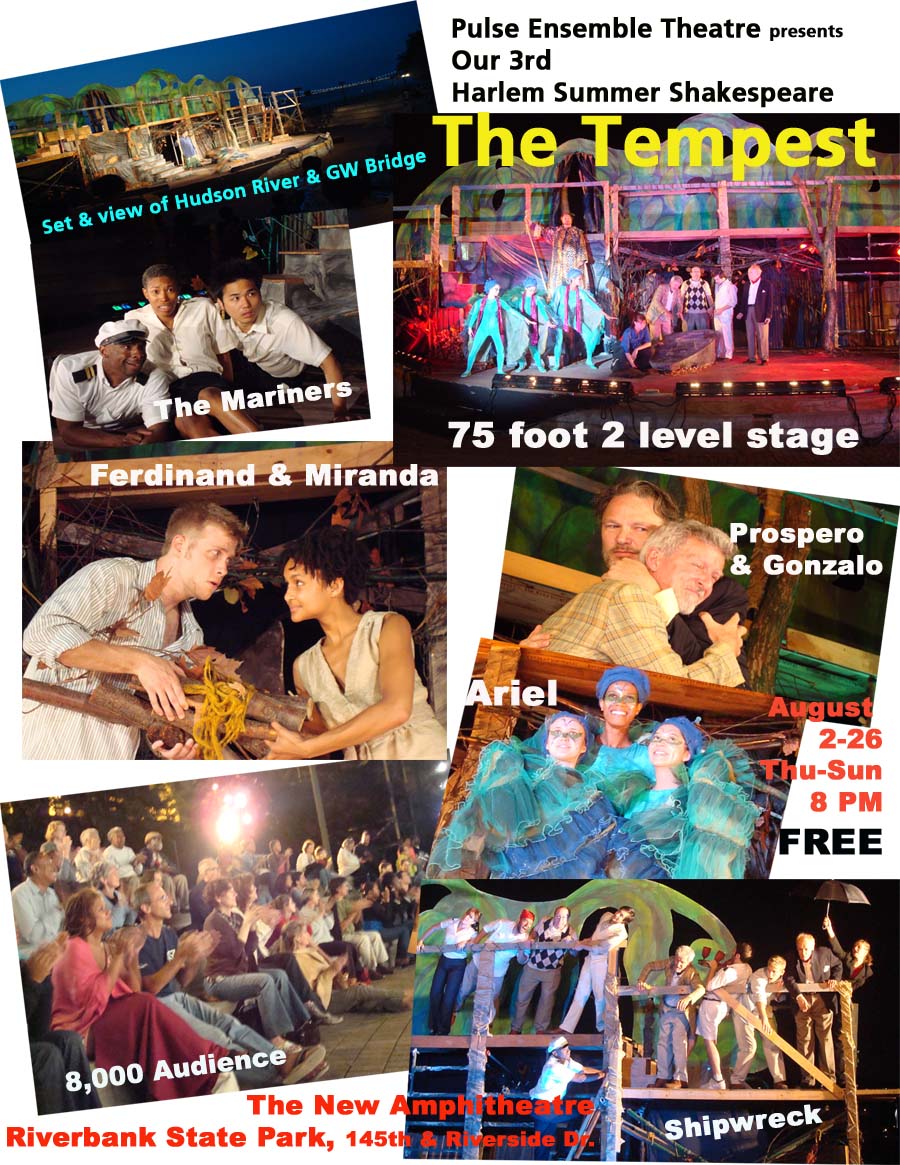 DIRECTED by Alexa Kelly
SET DESIGN by William Andrew Kelly
LIGHTING DESIGN by Steve O'Shea
COSTUME DESIGN by Courtney McClain
SOUND DESIGN by Brian Richardson
Production Stage Manager Jennifer G. Birge
Press Representative Susan L. Schulman
"A Brilliant production!"–AMSTERDAM NEWS
Review FROM THEATERONLINE.COM

By Fred McKinnon
One option for seeing Shakespeare in a New York City park on a (hopefully) balmy summer night is to wait on line at the Delacorte Theater for about six hours or make a $150 tax-deductible contribution for a reserved seat. Another choice is to hop on a train to 145th Street and take a short walk (or jump on a bus) to Riverbank State Park's newly renovated Amphitheater (on the bank of the Hudson River) for Pulse Ensemble's imaginative and delightfully entertaining production of "The Tempest." Arrive a little early and a beautiful sunset might put you in the perfect frame of mind for the Bard's play about magic, sprites, justice and young love.

As is usually the case with artistic director/director Alexa Kelly's multi-ethnic Harlem Summer Shakespearean productions, there are elements of contemporary "hip." Last year's "Romeo and Juliet" utilized some "Law and Order" ingredients, and this season's presentation reflects a "Lost" motif with ever-enlivening light and sound designs (Steve O'Shea and Brian Richardson, respectively) and dance numbers, which often seemed to keep even the youngest members of an only-in New York audience on the edge of their seats. William Andrew Kelly's set of Prospero's Magical Island with its platforms, stairways and cave dwellings serves the action of the play well—from floundering ship to dancing sprites to plotting malcontents—and as adds mystical aspects to the ephemeral theatrical proceedings. The inventive costumes (Courtney McClain) of the island inhabitants and conjured apparitions also add to the festivities.

A dedicated cast of eighteen seasoned actors and young thespians deliver a consistently fine presentation of the language, poetry and plot of the play. Twelve years before the opening titular magically induced tempest, Prospero (an overly-contemplative but solid George Tynan Crowley) had been set adrift in a rotten carcass of a boat with his infant daughter Miranda (a delightful, heart-winning Lauren Davis) by his brother Antonio ( "Soprano"-like Kevin Hauver) in order to usurp his position as Duke of Milan. Fortunately, kind old counselor Gonzalo (a likeable but underplayed Richard Vernon) provided the ill-fated nobleman with essential supplies and the duke's volume of magic lore.

One of the highlights in the proceedings in Prospero's plan to set things right is a delightful scene of love-at-first-sight as Miranda encounters The King of Naples son Ferdinand (Brian Cade), whose chemistry together is refreshingly romantic. Buffoonish and comic encounters with jester Trinculo (Udi Razzin), drunken butler Stephano (Joseph Raik) and the once-savage island inhabitant Caliban (evil-intentioned and high-spirited Bashir Solebo) create clownish diversions. The character who won my heart the most is Prospero's spiritedly aide de camp Ariel, uniquely portrayed with sisterly harmony by Raushanah Simmons, Hannah Sloat, and Linda Lee McBride. Beautifully costumed, they frequently danced, sang and enchanted, so much so that her (their) final exit as a "free spirit" was saddening but also joyful.

At the conclusion of the play, Prospero says, "Now my charms are all o'erthrown" as he relinquishes his magical powers; nevertheless, it seems unlikely that the charms of this midsummer eve theatrical experience for audience members will end with the enchanting curtain call.
Nycityonstage.org Review by VanLoan

The Tempest@Riverbank State Park Amphitheater 08/26/07

The Pulse Ensemble Theater's production of The Tempest celebrates its third free season of Shakespeare in Harlem. The show which is being performed in Riverbank State Park (overlooking the Hudson River at 138th St.) is an entertaining…endeavor vastly aided by Alexa Kelly's animated staging. With Jersey City's highrises twinkling across the river, one feels a certain affinity with those inhabitants of Shakespeare's magical island.

… …As Ariel, Raushanah Simmons (gives an) elegant performance, it's Ms. Kelly's imaginative direction that keeps things on an even keel. Streamlining the play to accommodate her updating, she keeps the pace quick and pointed. It opens with a sharp, silent pantomime of Prospero's banishment with Kevin Hauver as a creepy Karl Rove-esque Antonio particularly effective. Later, the shipwreck scene is created with little more than body English and blue crepe to very dramatic results. Adding immensely to Kelly's airy conception is Brian Richardson's lush soundscape incorporating several African motifs.

Thankfully, the leading actors compensate for some of the more amateur performances. Basher Solebo is all rage and despair as the downtrodden Caliban; the fact that the actor is black adds another layer to the moving portrayal (he also has the best costume of the evening; a glittering aqua body suit via designer Courtney McClain). Lauren Davis as Miranda and Brian Cade as Ferdinand are a bit bland as the young lovers yet are both able to make it work in their favor. The evening belongs to George Tynan Crowley as Prospero. He is both natural and majestic as the fallen monarch; in his penultimate moment (when he burns his book of magic symbolizing his decline into old age) he is poignant and affecting. The Pulse's Tempest is a wonderfully breezy introduction for young audiences to Shakespeare.